By Josh Hinkle, David Barer & Brittany Glas, KXAN-TV May 24, 2018
A KXAN investigation has discovered more than 200 allegations of discrimination, harassment and retaliation against the Texas Department of Transportation in the past five years. Many were complaints from women and minorities who represent an undersized portion of TxDOT's workforce, according to internal records.
Dozens of workers have also sued the agency in recent years on those grounds, court records show.
The complaints and lawsuits underscore the agency's ongoing struggle to address gender and racial disparities — and their side effects — in a culture historically and predominantly composed of white men, especially at its highest echelons.
The complaint files obtained by KXAN show racial discrimination and sexual harassment issues in TxDOT offices from Dallas to El Paso.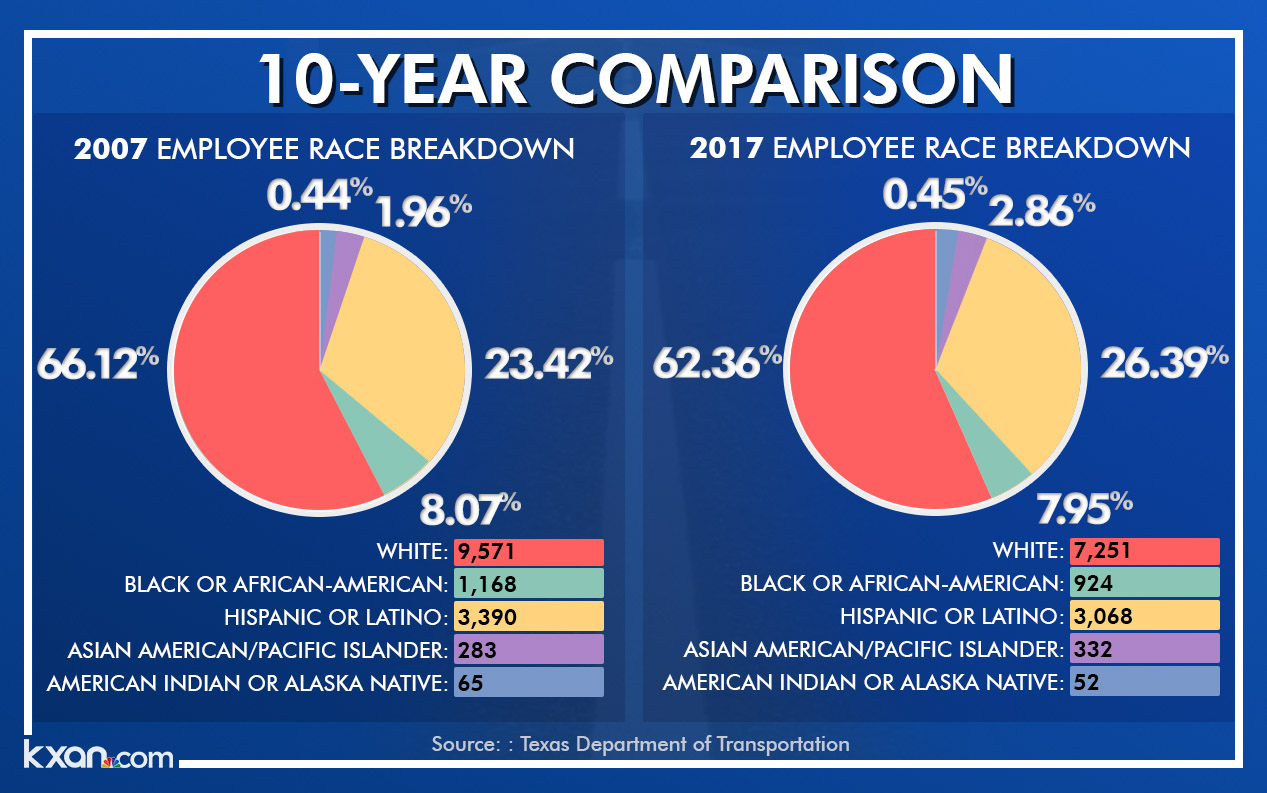 Fewer than 8 percent of workers were African-American, and that percentage has dropped in the past decade. KXAN
In one case, Tracy Martinez, a former TxDOT employee in a Waco maintenance office who filed a complaint after being fired, said she was told to perform inappropriately-named morning stretches in a cramped room with male coworkers. One exercise was called "the promotion" and involved bending over and touching her toes. When Martinez resisted the routine, she said, her supervisor retaliated against her.
"I started out hanging signs, striping roads, swinging a sledge hammer. I did a lot of hard work," Martinez said. "They robbed me of my retirement. I mean, this is really frustrating because I had a goal, and I took a lot of pride in the work."
According to a separate complaint from Nolan County, a supervisor asked a female worker about her genitals and "grabbed the butt of" a female employee. In Denton, an employee alleged a male coworker made sexual advances toward her, discussed his sex life and showed her "a pornographic movie." In Leakey, employees complained of racist remarks made by a supervisor against Hispanics, including calling them "thieves" and "baby makers with no fathers or family ties."
No disciplinary action was taken in most complaints made since January 2017, according to agency records.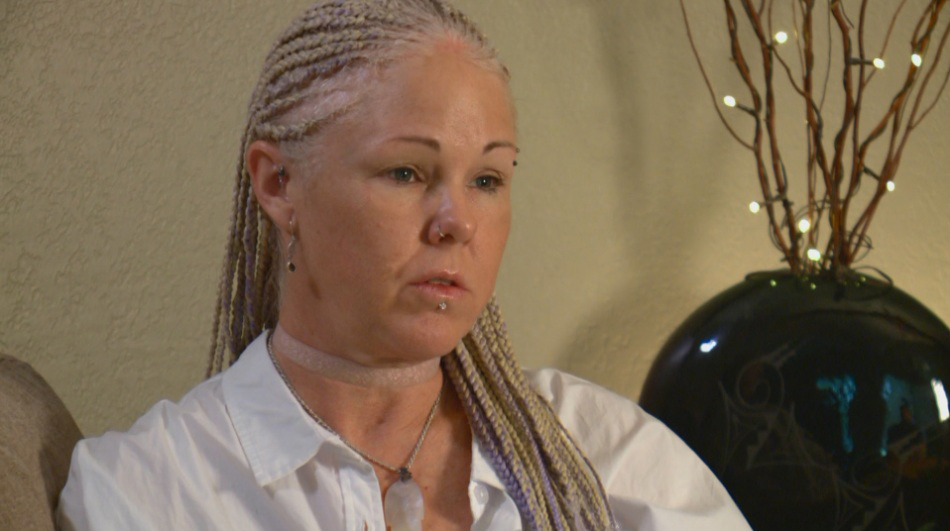 Tracy Martinez, a former TxDOT employee who filed a harassment and discrimination complaint against the agency after her termination in 2017. KXAN
State Rep. Celia Israel, D-Austin, said not enough is being done to protect workers and improve female and minority representation at TxDOT.
"Women, minorities especially, are saying, 'We won't accept racist behavior and write it off as a joke. We won't accept sexual harassment and write it off as a joke,'" Israel said.
TxDOT Executive Director James Bass told KXAN the agency investigates all complaints and if an allegation is found to be valid, the agency takes immediate action. TxDOT is also improving its recruitment, he said, by reaching out to universities and even high school STEM programs to find qualified female and minority applicants.
"When we open up jobs, we're not getting a full spectrum of applicants for our jobs and that's why it's so important for us to work on the recruiting efforts," Bass said. "We need to ensure that we're getting good applications from a broad spectrum of Texans."
Among the findings of the KXAN investigation:
Last year, women made up just 22 percent of the agency's 11,627 employees. The percentage of female workers has dropped in the past 10 years.
Fewer than 8 percent of workers were African-American, and that percentage has dropped in the past decade.
Between January 2017 and March 2018, women made up a third of TxDOT's total job applicants but only a fifth of actual hires.
White men represent 56 percent of TxDOT's workforce, and men take home 29 of the agency's top 30 salaries.
The highest paid female is 27th in the pay ranking, according to data provided to KXAN by the Texas Comptroller of Public Accounts.
State legislators have renewed their scrutiny of TxDOT demographics since a 2017 Sunset Advisory Commission report, which is a legislative audit.
Click here to check out KXAN's full investigation, "The Long Road to Equality."
Sarah Rafique and Ben Friberg contributed to this report.
This article originally appeared in The Texas Tribune at https://www.texastribune.org/2018/05/24/hundreds-harassment-discrimination-allegations-surface-against-txdot/.
Texas Tribune mission statement
The Texas Tribune is a nonprofit, nonpartisan media organization that informs Texans — and engages with them — about public policy, politics, government and statewide issues.