CENTRAL TEXAS — It's nearly fall in Central Texas, which means... It's pumpkin patch time!
Get ready for hayrides, corn mazes, petting zoos, fall festivals and more at some of our local fave pumpkin patches!
Robinson Family Farm
At the Robinson Family Farm located in Temple, TX, you can take a walk through a corn maze, enjoy a wagon ride around the pond, and "feed and pet the critters" before picking out your favorite pumpkin!
There are also several great photo ops around the farm and live music from 12 p.m. to 4 p.m. by local artists.
The full list of activities to enjoy include: Hay Rides, Critter Corral, Corn Cannons, Barrel Train, Ga-Ga Ball, Ball Zone, Archery, Duck Races, Pumpkin Bounce Pad, Corn Maze, Giant Jenga, Horseshoes, Ladder Golf, Giant Chess, Washers, Cow Roping, Hamster Wheels, Custom Playground, plus one turn at Sand Art.
Get something to eat at their "Food Barn & Grandma's Sweet Shop" before heading out or while taking a break. The shop has food and treats, such as sausage wraps, frito pie, hot dogs, fresh squeeezed lemonade and funnel cakes.
The Robinson Family Farm patch is located at 3780 White Owl Lane in Temple. It's open every Saturday and Sunday from 10 a.m. to 6 p.m. Sept. 21 until Nov. 3.
Central Christian Church Pumpkin Patch
Central Christian Church has been "Waco's Pumpkin Patch Church" since 2006. The patch opens September 29 at noon! Special events at the patch include S'Mores Night, and "Picnic & Movie in the patch."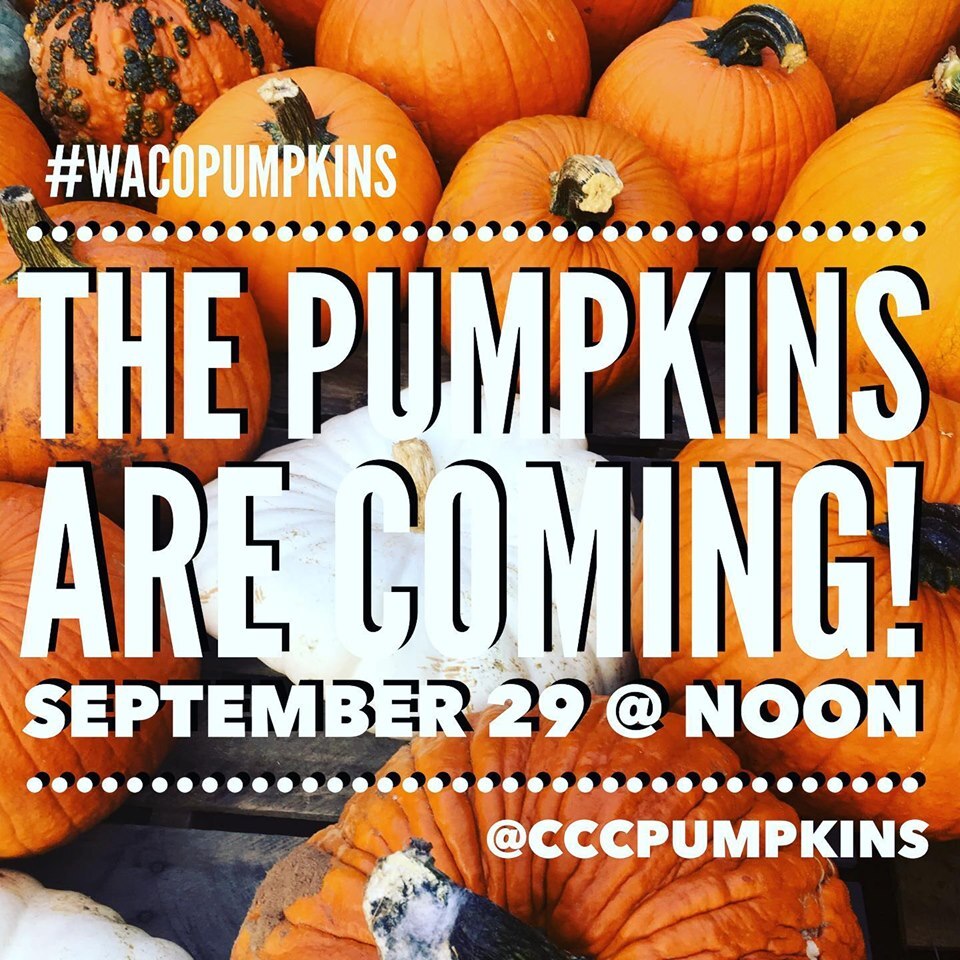 Your support for the patch helps Central Christian Church provide toys for the Mission Waco Christmas Toy Store, 20,000+ meals at our annual Do Good Friday meal packing event with Kids Against Hunger, Blessing Bags for Waco's homeless population, and more!
You can sign up your group for Story Time Field Trips at the patch!
"An energetic storyteller will read several stories, let your children explore the pumpkin patch and arrange for the children to purchase pumpkins (optional)," according to Central Christian Church. If the forecast calls for rain, the church says you are welcome to reschedule, or they can read the stories to the children inside the church in the Chapel. If you are booking a large group (multiple classes, whole grade levels, more than about 40), please book TWO back-to-back time slots so that we can accommodate you best! "Pumpkin purchases are not required, but encouraged and appreciated!"
Smaller pumpkins are $1.00- $2.00. The bulk "carving" pumpkins range in price from $3 to $50 based on size. Pumpkins are available while supplies last.
Volunteers are needed to work shifts at the patch! Click here to be a volunteer.
The Robinson Pumpkin patch is located in Robinson, TX. It's the organization's 7th Annual Patch! The patch includes a Free Hayride, Maze & More. Pumpkins are available for purchase ranging from $2 to $20.
Special Events in The Patch, according to the Robinson Patch Facebook page, include:

Party in The Patch - Every Wed @ 7:30 p.m. - Worship Service
Worship in The Patch - 10:15 a.m., Sun Oct 20.
Trunk or Treat in The Patch - Oct 31, 6 to 9 p.m.
The patch is open Oct. 1 through Oct. 31, Monday through Saturday from 10 a.m. to 8 p.m. There is NO Admission Fee.
Aggie Habitat for Humanity Pumpkin Patch
The patch is located at the Covenant Presbyterian Church grounds in College Station. The Pumpkin Patch is Aggie Habitat for Humanity's largest fall fundraiser and has over 3,000 pumpkins!
Pumpkins are delivered the first week of October and volunteers are appreciated! According to Aggie Habitat, an 18-wheeler will deliver 3,000+ PUMPKINS of ALL shapes and sizes. The pumpkins need to be sorted and unloaded -- and this year, they say they plan to sell even more than last year!
School groups are also welcome to come out on field trips to the patch. Groups can paint pumpkins, play games, have story time, and more.
Covenant Presbyterian also hosts an annual October fall festival filled with fun, games and even, of course, a hay ride! Visitors can enjoy picking pumpkins, taking pictures, and supporting a great cause.
Hours:
Monday - Friday: 12 p.m. to 8 p.m.
Saturday: 8 a.m. to 8 p.m.
Sunday: 10 a.m. to 8 p.m.
You can also bring out your dogs (as long as they are friendly and kept on a leash). There is no charge to take photos with your family but donations are always appreciated, according to the organization. The Aggie Habitat Pumpkin Patch site is located on Covenant Presbyterian Church's grounds in College Station at 220 Rock Prairie Rd.
Sweet Eats Fruit Farm is located in Georgetown! They have TWO pumpkin patches, a "Pick Your Own Pumpkin Patch" and another filled with a wide range of pumpkin varieties with "lots of cute places for photos!"
Threre is no shortage of fun activities at Sweet Eats Fruit Farm! The farms says it has 30 activities, including "pony rides, a petting zoo, a hay maze, face painting, jump pads, treasure mountain, pumpkin sling shots, pipe races, and so much more!"
NEW this year at Sweet Eats, is a CORN MAZE and PIG RACES! There is one big corn maze for everyone, and another one for smaller children.
The farm also plans to have a special, "Flashlight Corn Maze" during the evening hours after dark on Saturdays in October from 7 p.m. to 10 p.m.
The farm is open from Sept. 21 until Nov. 3. On Fridays, from 2 p.m. to 7 p.m. On Saturdays and Sundays, from 9 a.m. until 6 p.m. Admission is $16/person. Kids under 2 get in free!
The farm also has a "Weekday Saver!" on Wednesdays and Thursdays from 2 p.m. to 7 p.m. with limited* activities available. Admission those days is $10/person. *No pig races, pony rides, face painting, or hay rides on these days.
Visit the farm at 14400 E. State Highway 29 in Georgetown, TX. For more information, call (512) 766-3276.
--
If we missed any special patches, let us know and we'll check them out!